High Altitude Zip Line Tour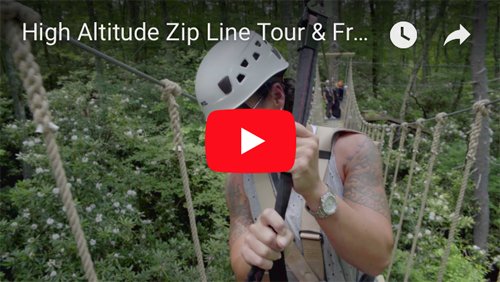 $69 | Zip Ages 7+
Soar with us!
Reservations HIGHLY Recommended.
Participants must be:
75-265 lbs in weight
At least 7 years old
Ages 7-10 must zip with an Adult
This adventure can last up to 2 hours long.
Our zip guides will get you geared up at our basecamp, and you'll all be shuttled up to our treehouse start just a few minutes up the road.  After a quick introduction to the gear you'll start zipping from treetop to treetop.  The lines start off shorter & lower to the ground, and grow as you move through it.  Feeling nervous?  This is a great way to grow your confidence level through the tour!
At the end of the tour, you have an (optional) 70 ft free-fall experience.  There's no way we'll ever agree on our favorite part of HGA, but you can rest assured this is always in the running.
* Bonus: Our guides take care of ALL braking through the tour.  You don't touch a cable the whole time!  Just sit back and enjoy the experience.