High Altitude Zip Line Tour Fun!
Get ready for the fastest and friendliest Zip Line Tour between Boone and Blowing Rock, NC!
Soar through the trees for up to 2-hours on this canopy tour with 5 zip lines, a sky bridge, 1,700 feet of zipping, and an optional simulated free fall. We keep tour groups small so there is less standing around and you don't have to worry about hand braking like other courses - the guides do the braking for you. All you have to do is admire the beautiful Blue Ridge mountain views from the tree tops.  Fly over the valley on the 1,000 foot dual zip line and experience the ultimate thrill when exiting the zip line course via the exhilarating (and optional) simulated free fall experience through the center of the High Gravity Aerial Adventure Park!  
Parents & Grandparents: Kids love to Zip, too! Make sure they are at least 75 lbs. and 7 years old so they can get through the course successfully. 
Located at Tweetsie Railroad Lane, Discounts for Tweetsie Ticket & Pass Holders
We are located next to Tweetsie Railroad Amusement Park, on Tweetsie Railroad Lane, Blowing Rock, NC.  Special 15% discount for zippers with a same week Tweetie Railroad ticket & 20% discount for Tweetsie Railroad Season Pass holders!  Use code TWEETSIE15 for same week tickets and code TWEETSIE20 for season pass holders at checkout.  Same week ticket or Season Pass must be presented upon arrival at High Gravity.
Extra Value! All Zipline Tour tickets include access to our popular Ninja Ground Course at the High Gravity Aerial Adventure Park. Your zipline tour meets right at the adventure park - guests love to race each other through the course to see who makes the best Ninja!


"I just got done riding High Gravity's zipline tour and it's awesome. I did it with the kids who also loved it. The last zip is 1,000 feet long and ends on top of the ropes course still 70 feet above the ground and you drop on a free fall/belayer (call it a very rapid but controlled fall). It was a complete and total rush. Awesome family outing."
- Philip H. via Facebook
"It was an awesome experience for this great grandmother to get to enjoy doing the Zip Line Tour for the first time. Loved "zipping" down the mountainside! Your cheerful staff was indeed a pleasure to be around. Thanks for providing a great place for our family to spend the afternoon :)"
- Mary M. via Facebook
EXPLORE EVERYTHING YOU CAN DO AT HIGH GRAVITY ADVENTURES
ZIP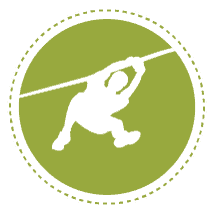 High Altitude Zipline Tour is like flying through the forest! Five zip lines, a sky bridge, 1,700 feet of zipping, and an optional, incredible simulated free fall. Up to 2 hours of fun for zippers at least 75lbs and ages 7+.
CLIMB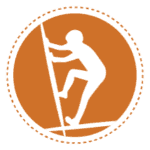 High Gravity Aerial Adventure Park has 75+ incredible challenge elements and three levels of climbing. Kids Foothills Course for ages 4+, Blue Ridge Course for ages 7+.  Access to Ninja Ground Course included with all Adventure Park tickets. Challenge and race your friends and family!
SWING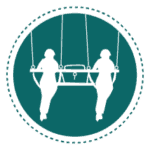 The Giant Swing is the perfect way to round out your High Gravity Adventures experience! Fits 3 riders at a time, you get 2 swings per ticket! Available as a discounted add-on to Zipline Tour or Adventure Park ticket purchases.
LOCATION: We share a parking lot with Tweetsie Railroad. Turn onto Tweetsie Railroad Lane off Hwy 321 coming from either Boone or Blowing Rock, NC. We are in the heart of the Highlands!